This year, we're expanding our coverage of all things animal law and advocacy in a two-part series. The first article is our list of notable stories about animals throughout the year, both positive and negative. In the second, we'll analyze developments, identify trends, and go out on a limb with some predictions.
While we rejoice in the good news, it's important to acknowledge the bad as a motivation for Attorneys for Animals — and all advocates — to keep working!
If you're interested in reading more about any of our listed items, there are links at the end of the article.  
---
2016 Top Animal Stories 
Positive News for Animals (and Animal Advocates)
SeaWorld agrees to phase out captive breeding of its orcas (after public outrage due in large part to the film Blackfish); this follows last year's announcement that it would phase out orca shows in its San Diego park (and was one of AFA's Top 10 Stories of 2015)
Obama administration closes loophole and prohibits the slaughter of downer calves (who were excluded from the 2009 regulation that banned the killing of downed adult cattle)
November election sees victories for farmed animals in extreme confinement

Massachusetts voters overwhelmingly approve (78% to 22%) Question 3 to ban the production and sale of eggs, pork, and veal from animals confined in tiny cages
Oklahoma voters defeat 60/40% a "Right to Farm" proposal which would have prohibited most regulation of animal agriculture in the state; opponents dubbed it "Right to Harm"
Deaths of animals result in higher damages; a Washington state plaintiff received $36,000 damages, including $15,000 for emotional distress; and a Colorado jury awarded $263,000 for dog who was shot by police
Companion animal-friendly legislation passes in states around the country:

Alaska passes law that allows courts to consider the interests of animals in divorce cases
In Connecticut, "Desmond's Law" allows representatives to be appointed to oversee the interests of animals, CT bill appoint reps for animals: Desmond's law
Ohio first responders can treat injured pets without fear of liability
European Union upholds strict ban on animal testing even if done for non-EU country products
Michigan's Anti- Puppy Mill campaign saw developments on the legislative front (new law sets standards for large scale breeders) and on the activism front (closing down a Grand Rapids-area pet store)
The connection between domestic violence and animal abuse is recognized by Michigan legislators who enact a law (PA 94 of 2016) specifically authorizing companion animals to be covered in protective orders, joining 30 other states
In a first, DNA analysis clears a service dog on death row, who had been accused of killing a neighbor's dog; Jeb goes home to his disabled veteran companion in St. Clair County, MI
A revision to the federal Toxic Substance Control Act, although not usually on most people's radar of laws effecting animals, is a major development in reducing testing on animals
Horse soaring ban: the USDA announces proposed regulations to ban this cruel practice; activists are encouraging the Obama Administration to finalize the regs before the end of his term
In late December, China announces a ban on ivory trade by end of 2017, a huge development for elephants


---
The Year's Challenges for Animals (and Animal Advocates)
Michigan's war on wolves continues unabated, as Michigan legislature rushes through a law during post-election end of session that allows wolves to be hunted; the new law also delegates authority to unelected Natural Resources Commission to add other animals to the list of species to be hunted
Flint water crisis is big news in Michigan, and animals are affected as well
Elections in the UK ("Brexit) and US Presidential election cause concern that animal welfare gains may be in jeopardy
Police shootings of dogs is on the radar with City of Detroit paying $100,000 to settle case involving the death of Babycakes; and a 6th Circuit federal appellate court holds that shooting a dog who moves or barks when police enter the house, causes outrage
Harambe is shot to death at Cincinnati zoo when child got into the 17 year old endangered gorilla's exhibit; an investigation later clears the zoo of wrongdoing although it says Harambe's enclosure was substandard
Amid controversy, Ann Arbor closes 14 parks and hires USDA Wildlife Services who kill 63 deer; city plans another "cull" winter 2017, but adds plan to sterilize 60 deer as well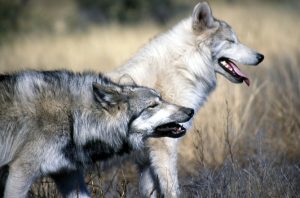 ---
End Notes: