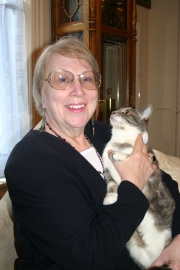 In the early 1990s, animal law was in its infancy. Few people, even in the legal field, were aware of it. Students didn't attend law school because they wanted to practice animal law. There weren't classes, student animal law groups, journals or conferences.
"We are using the occasion to launch a new program,

Articles for Advocates."
Wanda Nash was ahead of her time. She had gone to law school in the 1980s so she could put her knowledge to work helping animals. She believed that there were attorneys in Michigan who shared her passion. So, she put a notice in the Michigan Bar Journal over 25 years ago, asking "attorneys interested in animal law" to contact her. Nearly 20 responded. From that core group Attorneys for Animals was formed and, several years later, the Animal Law Section of the State Bar of Michigan, the first statewide animal law section in the country.
Wanda died in early May 2008, during Be Kind to Animals Week and just after Law Day.
March 1, 2018 would have been her 75th birthday. To mark the occasion and to remember her contributions to animal law and advocacy, we've asked some of her friends and fellow advocates to write a few words about her and her influence.
We are using the occasion to launch a new program, Articles for Advocates. We are inviting you to submit an article about a topic of interest to animal advocates, whether it's an update on an issue or a report on a campaign. We'll publish the articles on this website and on our LinkedIn Group page. Be sure to sign up.
You can read more about Wanda here. If you didn't know her, here is a sampling of memories from those who did: 
I first met Wanda at an Attorneys for Animals event in Ann Arbor in 2007. I didn't know anyone at the event, and Wanda immediately made me feel welcome. She sat with me and talked with me and really made me feel a part of things. While I wish I could have spent more time with her, I am lucky to have met her. And I am so thankful for all of her contributions on behalf of animals.
                                                                                     -Kate Brindle
---
What a warm, wonderful soul, Wanda was. She was a fierce and powerful advocate for animals, but as humble and respectful as they come. She made me want to be a better person.
-Jacqueline Vestevich
---
When I first met Wanda back in the 1990's, I remember high energy and boxes filled with stuff about animal issues, ready to take on the world.
-David Favre
---
I had the privilege of serving with Wanda on the board of Animals and Society Institute. Wanda was always optimistic and enthused about animal advocacy and the role we lawyers play in that advocacy. She was a strong role model and mentor to many of us.
-Jerry Simonelli
---
My memory of Wanda was that she had an incredible passion for animal rights.  I first met her at the old Huron Valley Humane Society in Washtenaw County where a group of us were meeting to discuss forming what would eventually become Attorneys for Animals.  I got there early and had the opportunity to chat with Wanda about animal rights in general, and specifically about her vision for an attorneys group to work on animal rights.  I was so impressed by her passion as she discussed these topics.  You could literally see in her eyes how excited she was about going forward with the project.  I miss talking to her and no longer being able to tap into her energy.
    -Curt Hedger
---
I think the thing I remember most about Wanda is her passion for helping animals by giving them a legal platform to stand on.  She was truly an inspiration and is deeply missed by friends and all animal advocates alike.
-Sharon Atma
---
Besides being a dear friend and an inspiration, Wanda was also my mentor. She convinced an opinionated and loud-mouthed college student that if one wants to improve the plight of non-human animals that it couldn't be accomplished by spewing vitriol and alienating potentially sympathetic folks. Wanda taught me to be a passionate pragmatist- by keeping my, "eyes on the prize." Clearly Wanda's approach worked as she, as much as anyone, has influenced law and practice to protect Michigan's non-human animals.
                                                                                               -Scott Harris
---
Thank you for the opportunity to remember Wanda. What a life well lived in service to both humans and non-humans. It was a joy serving with Wanda on the Michigan Federation of Humane Society's Board for over 20 years. Wanda was a committed tough advocate for animals in our state. She didn't give a damn what other people thought if what she was doing was right for animals. I remember some wonderful meaning of life conversations with Wanda and fellow advocate Scott Harris over a beer after finishing a long day after the once annual Federation Conference. My life the lives of many animals is much better because of the mark Wanda made on animal advocacy in Michigan.
One other fun experience I had with Wanda. At one of the Federation conferences Wanda was in charge of picking up Tom Regan. She had difficulty finding him at the airport and later had difficulty with getting him to his speech location. She was laughing about it stating that Tom was so mad he could just say there was only one thing worse than her timing. It was her sense of direction. I loved that she could laugh at herself during times like that.
                                                                                          -Aaron Winters
---
As I remember, Wanda was a true voice of reason and a calming influence on all of us at a time when ASI was in its infancy.  She provided—and we were all so much in need of—her deliberative but kind fairness and candor during difficult, sometimes stormy board meetings as we successfully transitioned to our new mission.
                                                                                                -Joel Kanoff
---
To remember Wanda Nash is to recall her compassion and intelligence, and her commitment to hard work and having fun. How fortunate to know her. How sad she's no longer standing alongside us.
-Kim Stallwood
---
Wanda and her work as founder of the Attorneys for Animals provided me with my first understanding of the importance of animal law for the movement. I have a vivid memory of staying with her and her family back in the 90s on the occasion of an invited presentation. Wanda had an aura of benevolence that immediately put people at ease.
-Ken Shapiro
---
Wanda was my mentor, and her announcement in the Michigan Bar Journal around 1991, calling on "attorneys interested in animal law" to contact her, put me on this path of using the law to advocate for animals. She taught me resilience, which is an absolute  necessity for an animal advocate. She taught me to remain on an even keel, taking pride and pleasure in victories small and large, but keeping ever vigilant; and to take losses in stride without succumbing to feelings of fatalism or futility. And, I can still hear her reaction to any positive news: "that's fan-tastic!"
                                                                                               -Bee Friedlander
---
Wanda always was thinking about the animals. At her memorial service in 2008, she made sure that the food was vegan. Knowing that the church members who would be preparing the meal were not veg, she had copied and provided them with the recipes she wanted served. This was pure Wanda: not only to pre-plan her funeral luncheon, but to make sure no animals were harmed.  Wanda was a "mover and a shaker." I wish I'd had more time with her.
 -Sharon Smith
---
First, Wanda went to law school with the express goal to be able to help animals more.  Fantastic!
Second, I remember my last words to her toward the end of her life.  I visited her at home, talked some, and then I finished by saying: We are going to keep working for the animals.  I'm sure that she replied with her famous phrase: Fantastic!
Third, Carolyn Earle White (1833-1916) once said:
When it comes to the last hour of your life, it will be a great consolation to feel that you always protect the poor, the helpless, and the unfortunate; and that you exercised a particular care towards animals.
These are profound words and I think of Wanda when reading them.  Wanda certainly "exercised a particular care towards animals."
                                                                                                    -Donald Garlit
---
Wanda had an infectious smile and such a welcoming manner. At the same time, she was a fearless advocate for animals and people in need. She was one of those people that made lawyers proud, and friends prouder.
-John Guenther
---
Wanda was a person passionate about animals.  Every day she was pushing for more protection and better conditions for those who could not speak for themselves.  Her passion and drive are missed.
–David Wallace